Where it all began
2017
Gotta start somewhere.
Converted an old desktop into a NAS, using FreeNAS (before the name changed to TrueNAS). The system is pretty janky, consist of the following:

Random Lenovo Intel Motherboard, hacked together with an AMD cooler and fan
Intel i5-2500
16GB (2x8) DDR3
2x Syba 4-Port SATA PCIe x1 Expansion Card (This was before I learn about LSI HBA cards)
12x 500GB Assortment of HDDs I salvage from work
For the pfSense Firewall, it started out as an HP Elitedesk desktop, with holes cut in the front for the Ethernet NICs.
This was running on:
HP Intel Motherboard
4th Gen Intel i5 Processor (Forgot which model)

16GB (4x4) DDR3
4x Gigabit PCIe NIC, mix of Intel and RealTek, that have a ribbon breakout cable to the physical NIC daughter boards

1x 120GB SSD for Boot Drive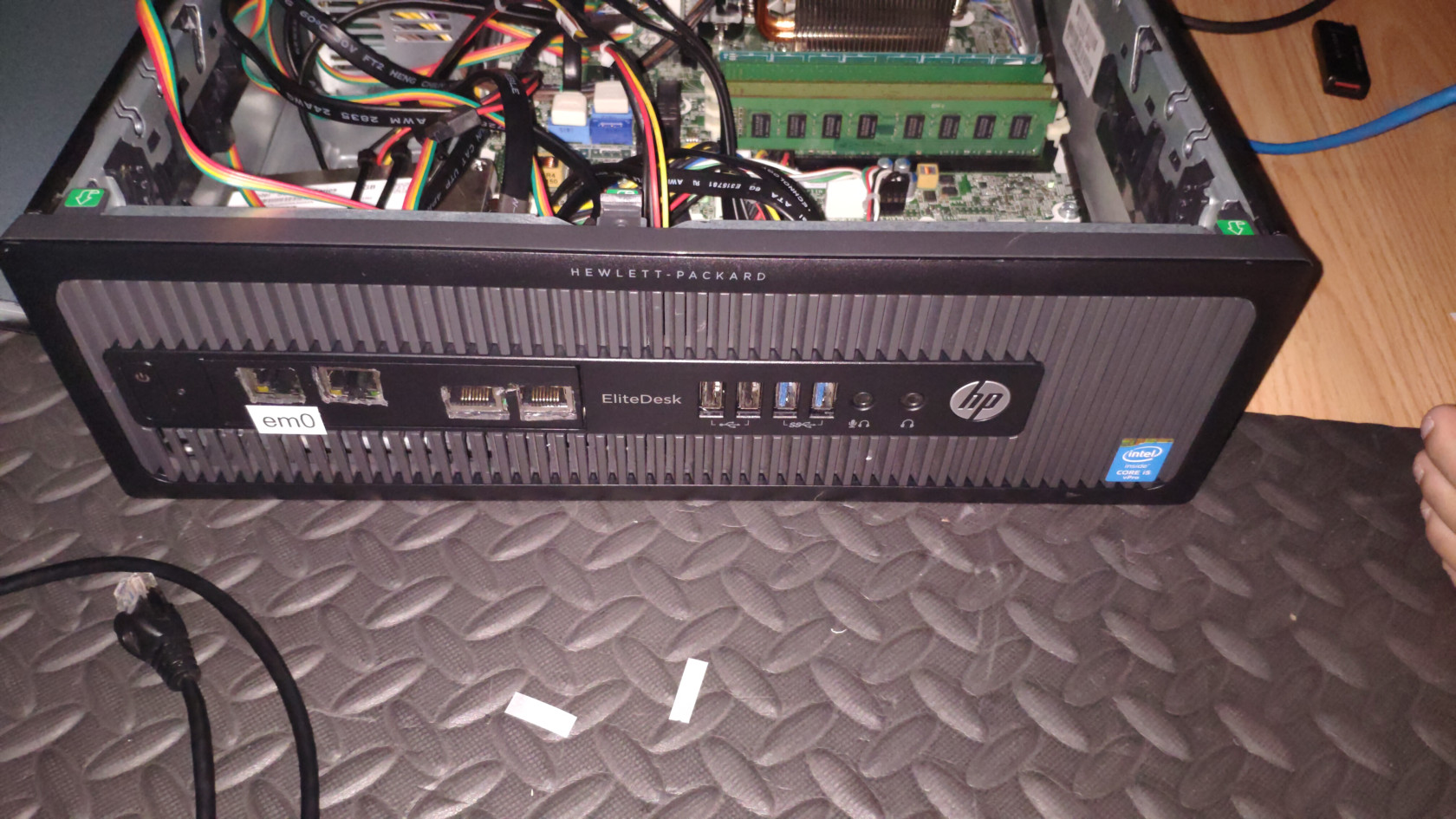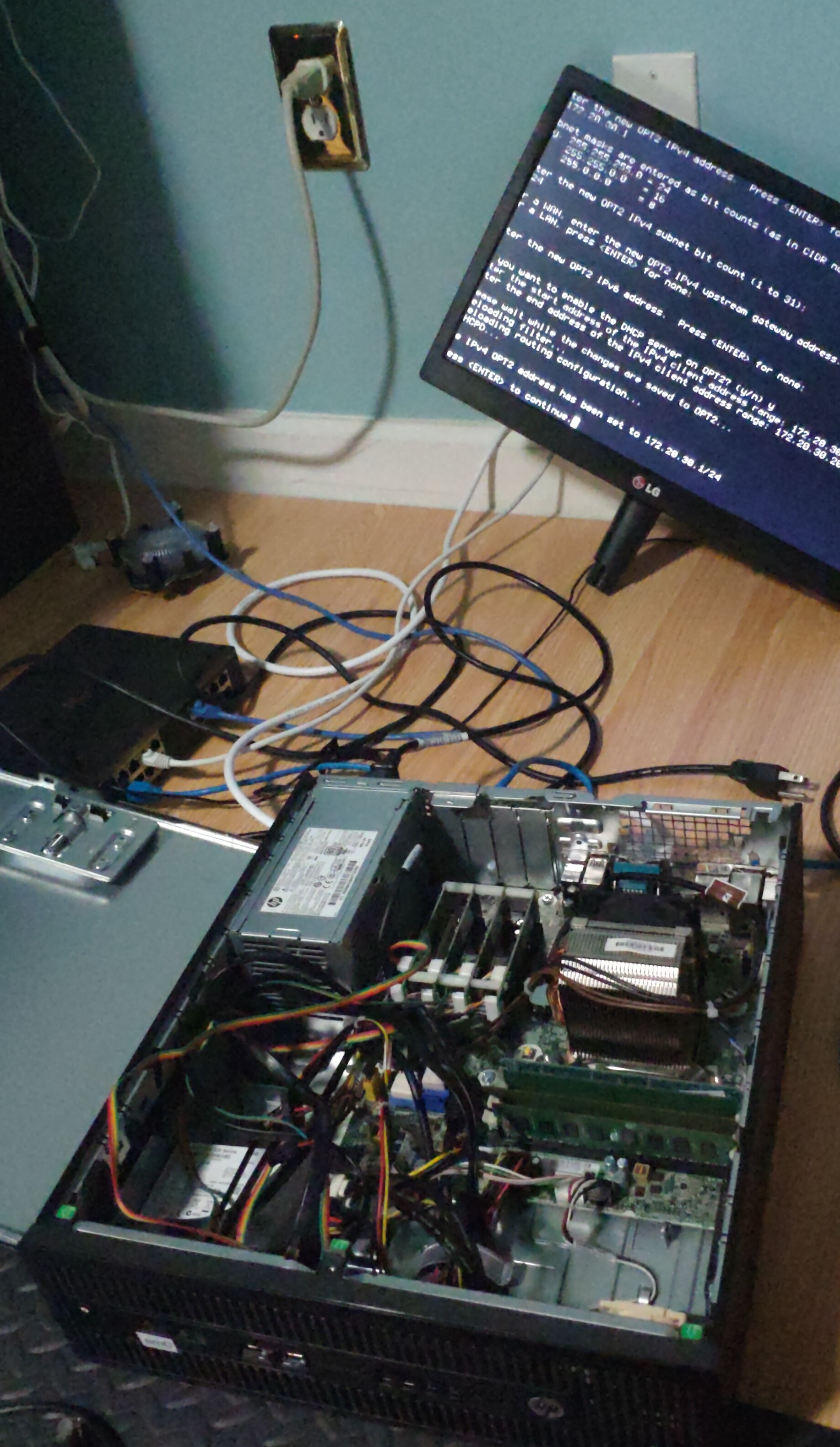 2018
Over time, as I accumulate more and more consumer hardware, my home lab grew and changed. Below is the upgraded janky hardware for FreeNAS:
Intel i7-4790K
32GB (4x8) DDR3 RAM
Asus Z97 Motherboard
Syba SATA PCIe Expansion Card
4x4TB HDD in RAID 10
3x 480GB SSD in RAID 5
2x120GB SSD as Mirrored Boot drives
Thermaltake Core P5 Open Air Case
It was also around this time I added an UPS to the setup (at last) to protect against random, momentary power outages.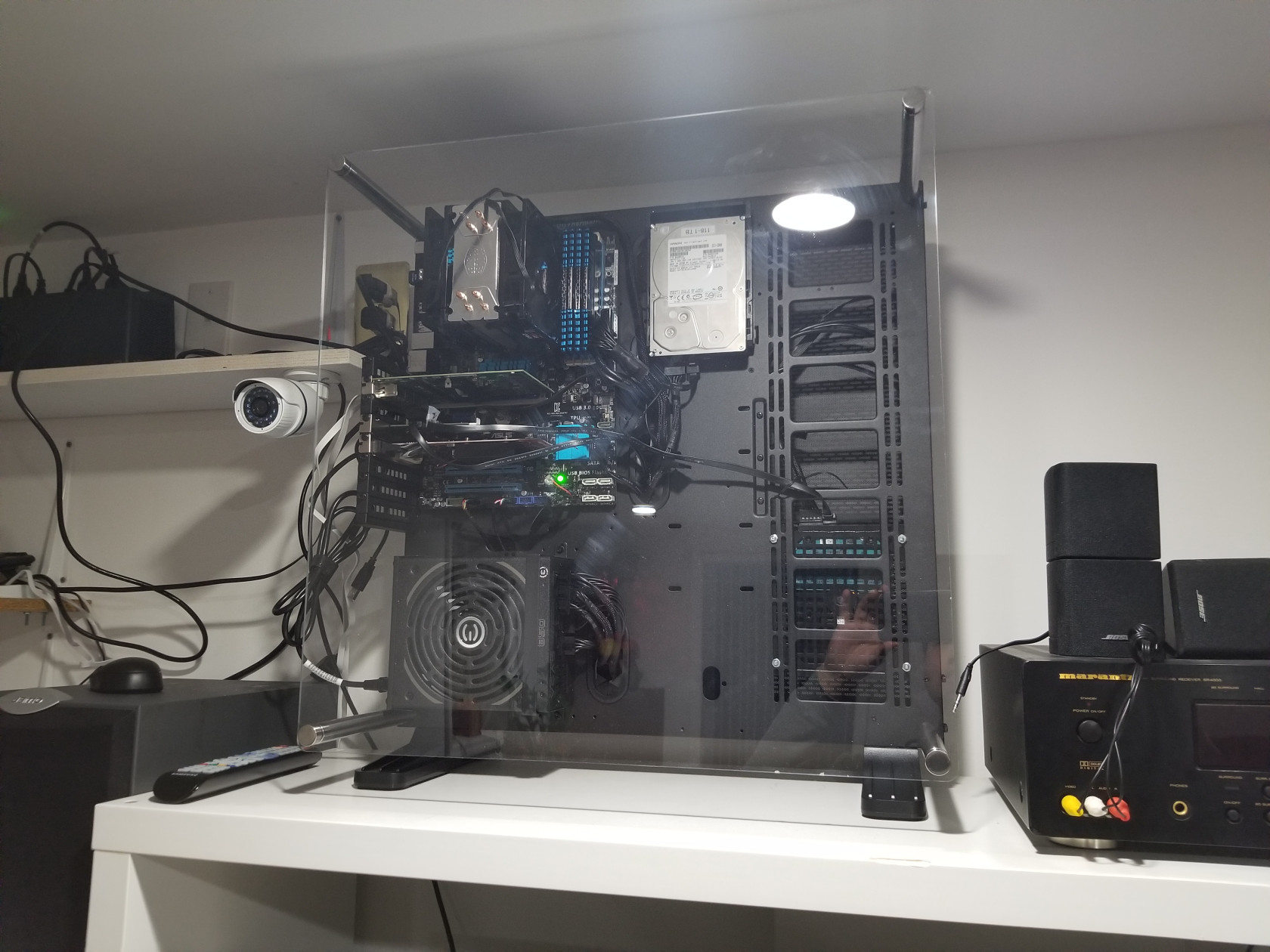 As I learn more and more about IT, I was slowly reaching the limit of the consumer-grade motherboards in my homelab. Around this time, I found a great deal on an AsRock Server motherboard, And so it begins my next phase of Homelab, where I use server grade hardware in a DIY mounting solution. Very jank. This time, the server runs ESXI (free license) as the hypervisor, with everything else virtualize underneath.

Dual Intel Xeon E3-2630L
128GB (16x8) DDR3 ECC RAM
AsRock Rack EP2C602-4L/D16 Motherboard
3x 1TB HDD on onboard SATA controller, pass-through to one FreeNAS VM
3x 2TB HDD on PCIe SATA controller, pass-through to another FreeNAS VM
3x 480GB SSD on onboard SATA controller, pass-through to a third FreeNAS VM
3x 120GB SSD, used as ESXI VM Datastore
For networking, pfSense was transfer to a small NUC-like device, from Qotom Mini PC. I have also acquired a 16-Port gigabit Netgear Smart Switch that have basic VLAN functionality to start learning about VLANs.
Server case was too expensive at the time for me, and I had a lot of scrap wood around. So I decided to build a hanging wooden "case" to house the server on.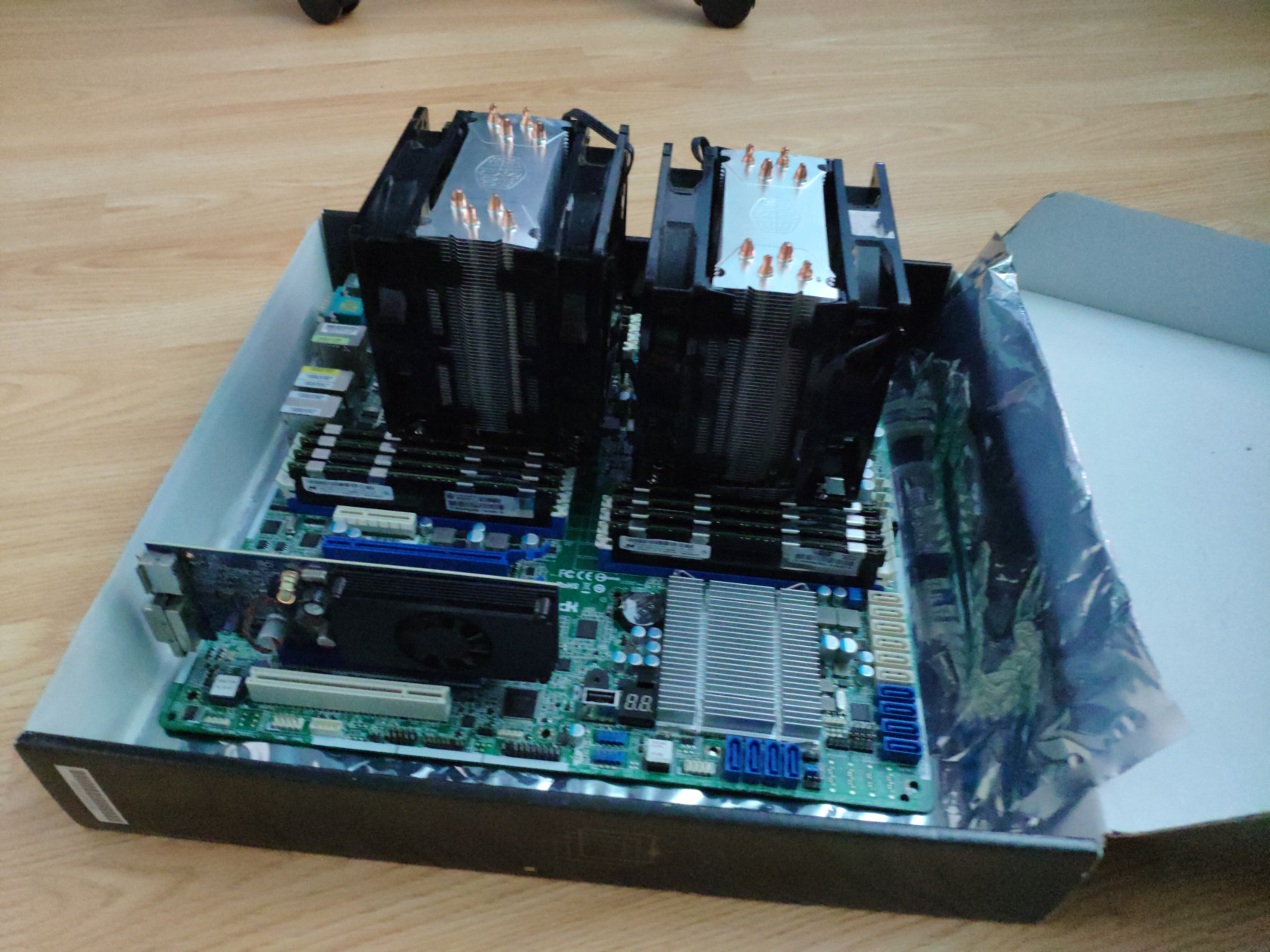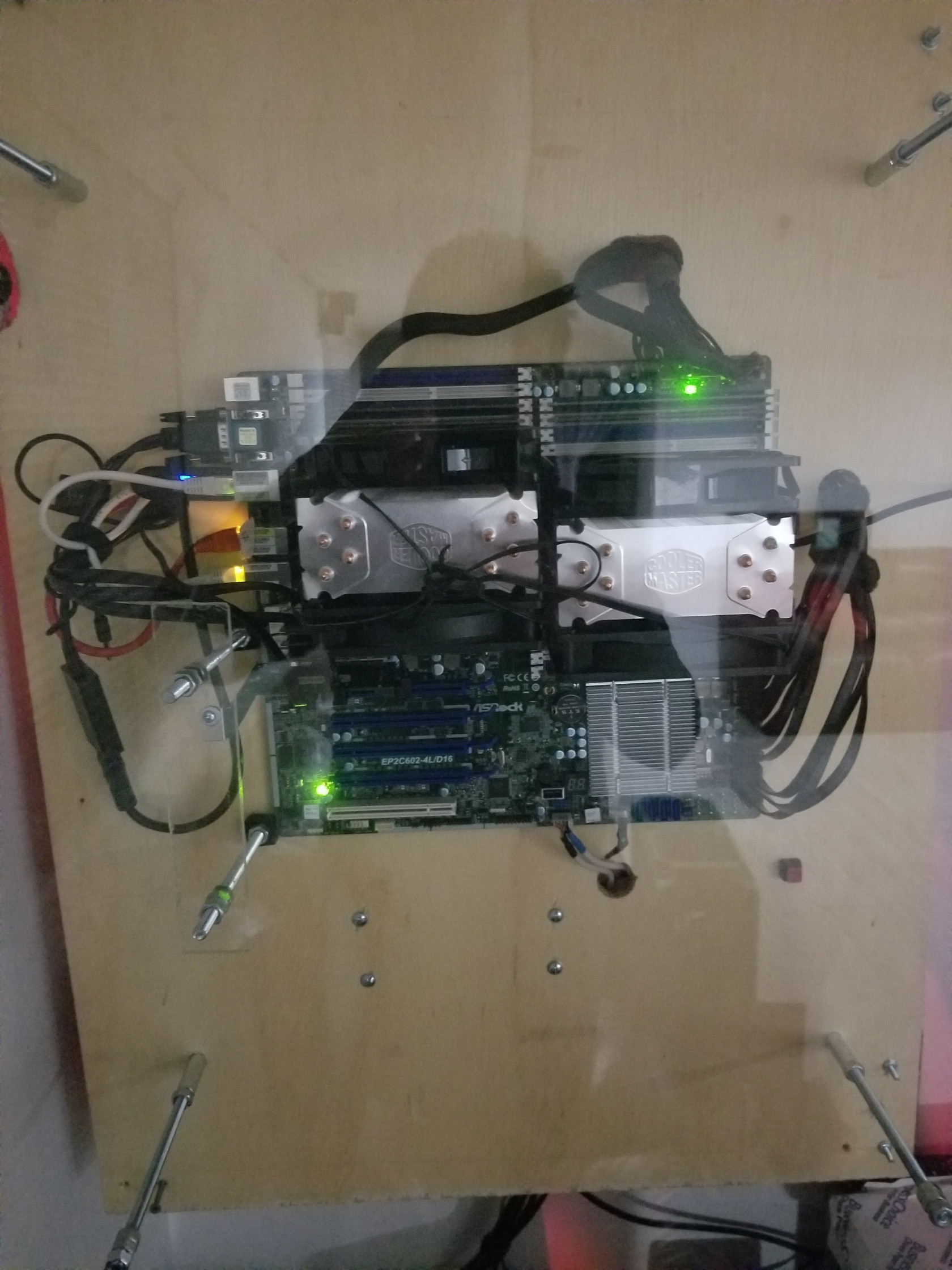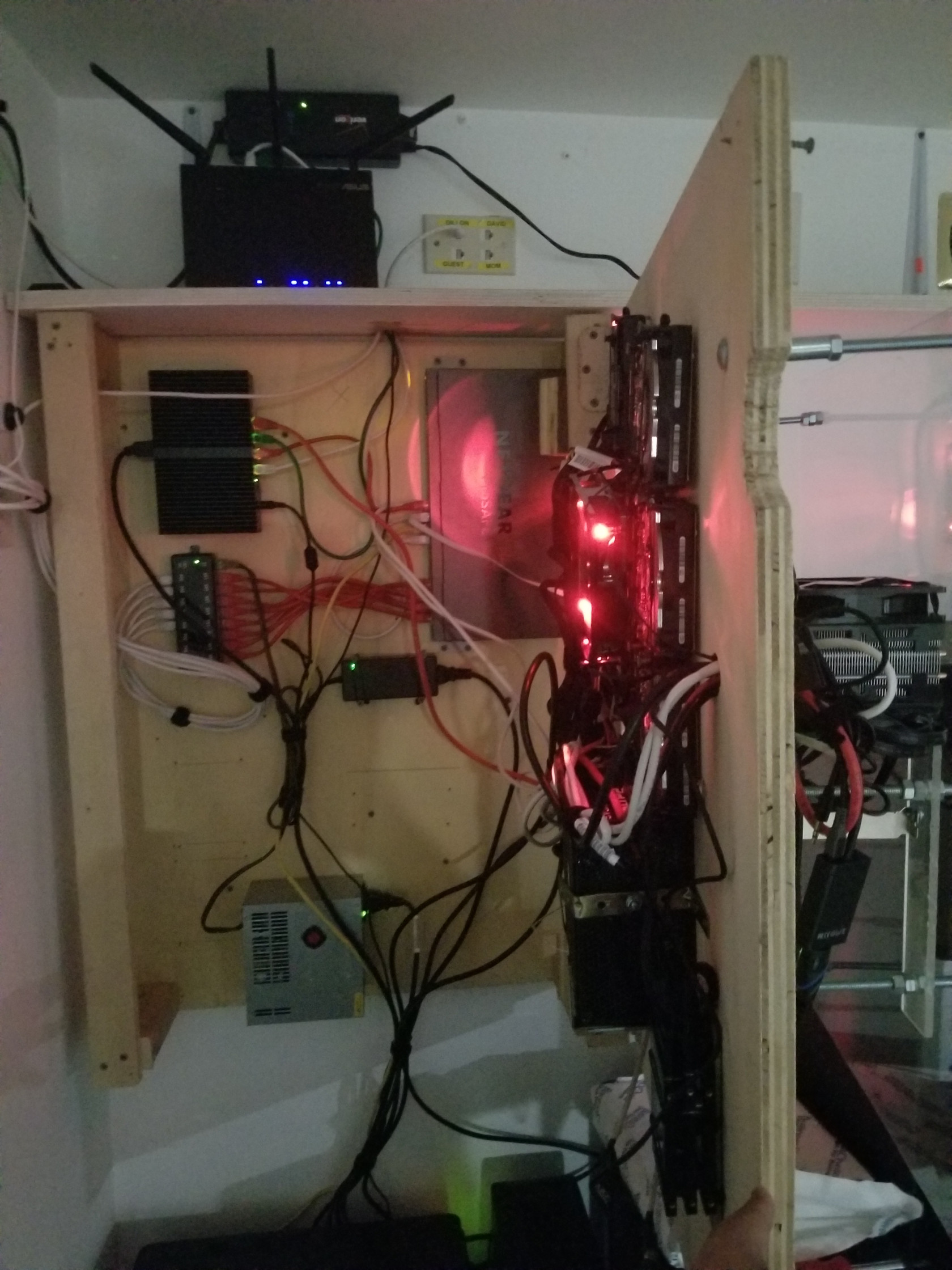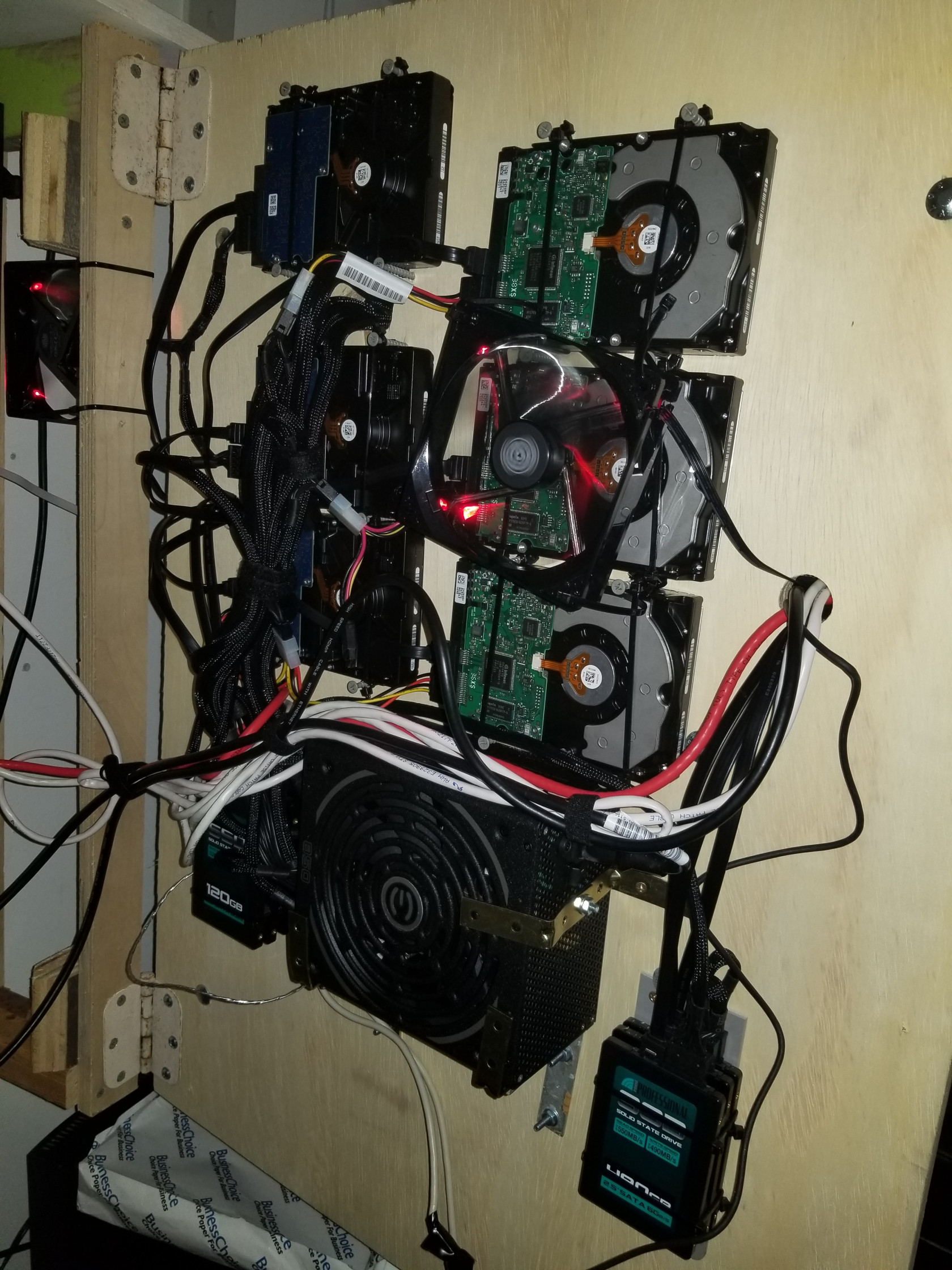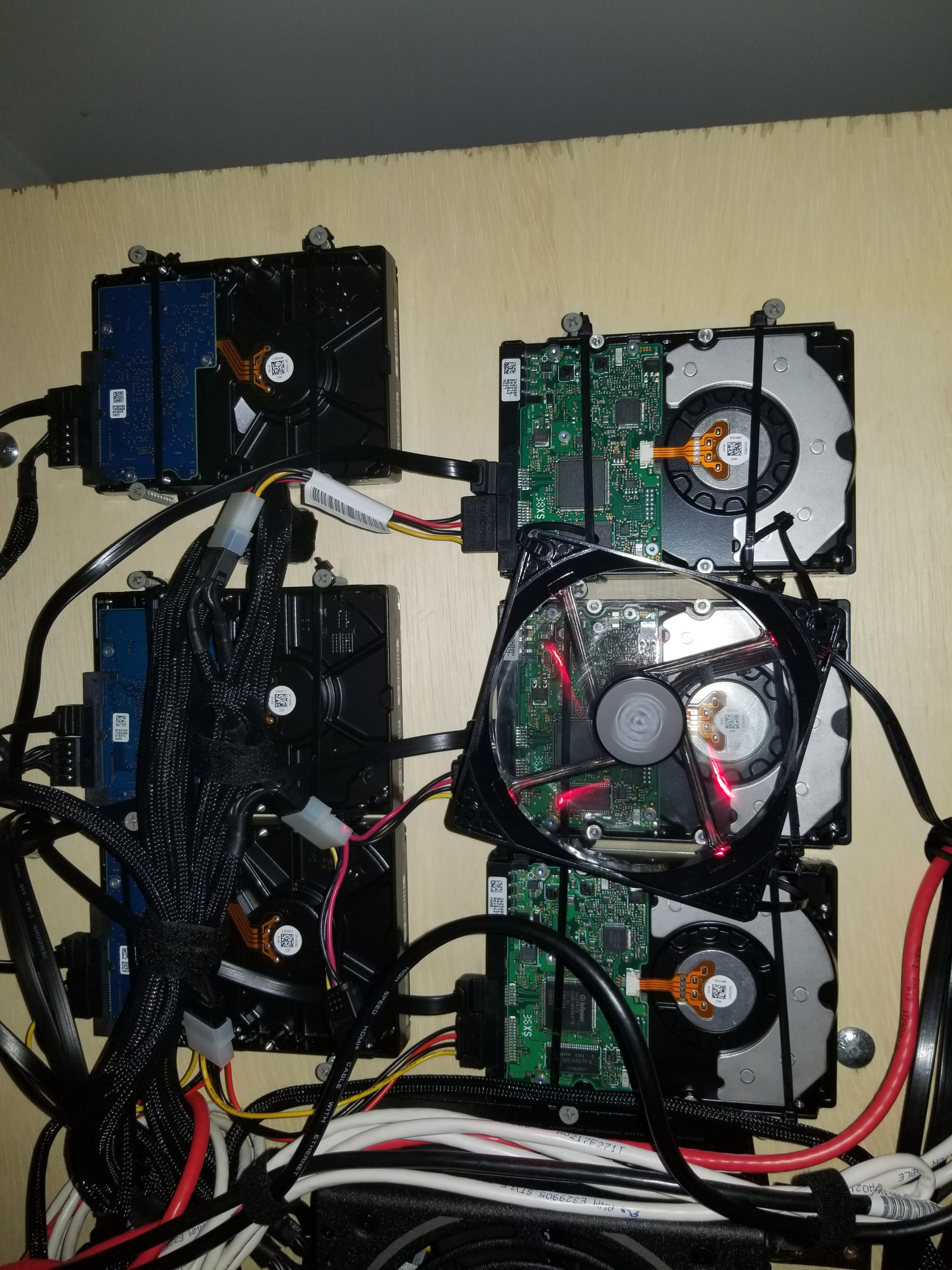 2019
While open-air "case" can work, it's not a good idea to leave all the electronics exposed to elements. Sometime during the year, Newegg had a flash sale on a Rosewill L4000 4U server case for cheap, and so I upgraded the lab once more.
The components largely remind the same as before, just in a proper case now.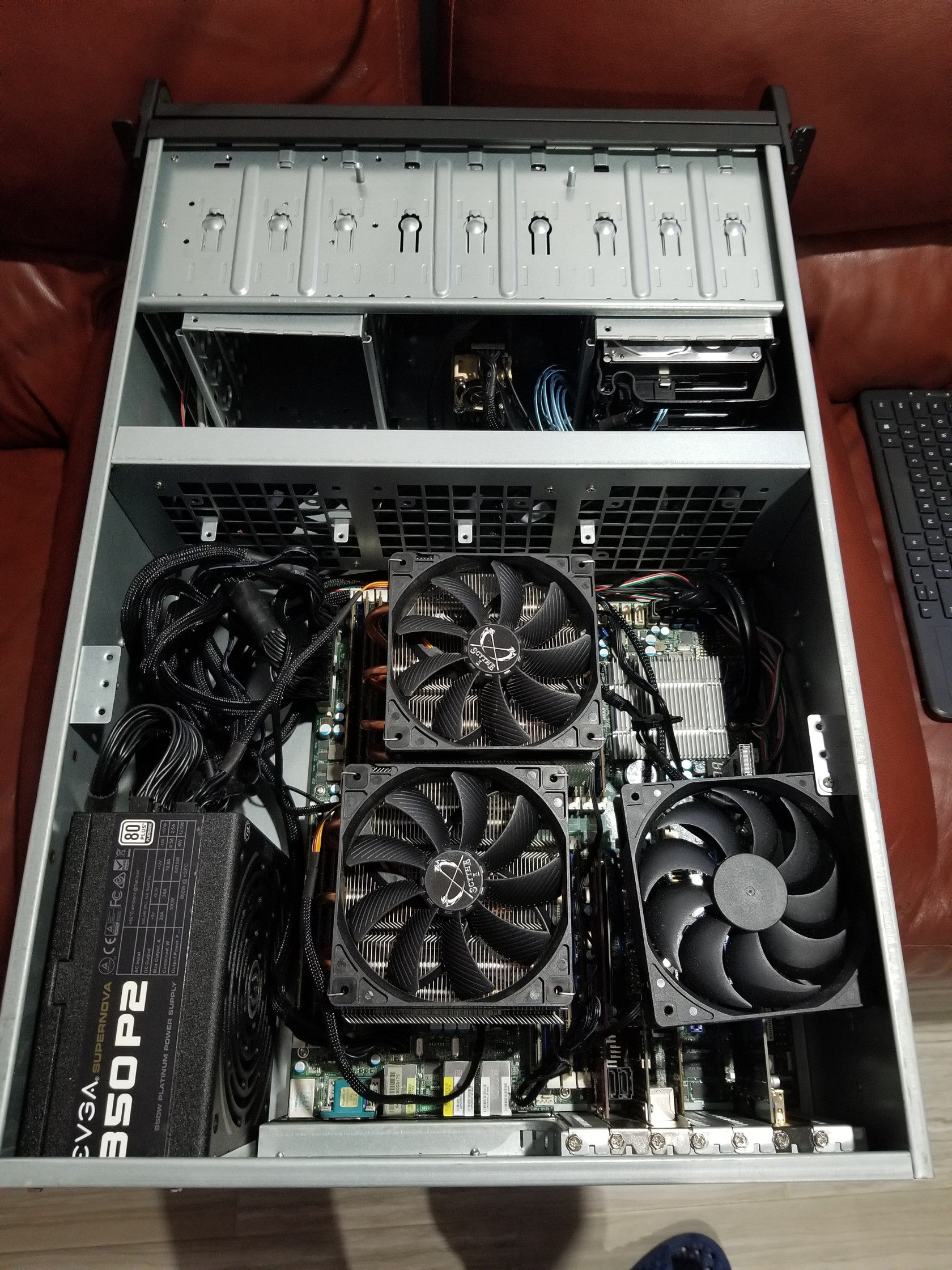 After discover the r/homelabsales subreddit, I was able to score a good deal on a Cisco switch, thinking it will help me studying for the CCNA in the future. This switch is the SG200-52P, which is a huge upgrade over the previous 16-Port Netgear switch, in terms of both functionality and more ports.
But server racks are still out of the question, due to both cost and lack of space. Janky mounting it is.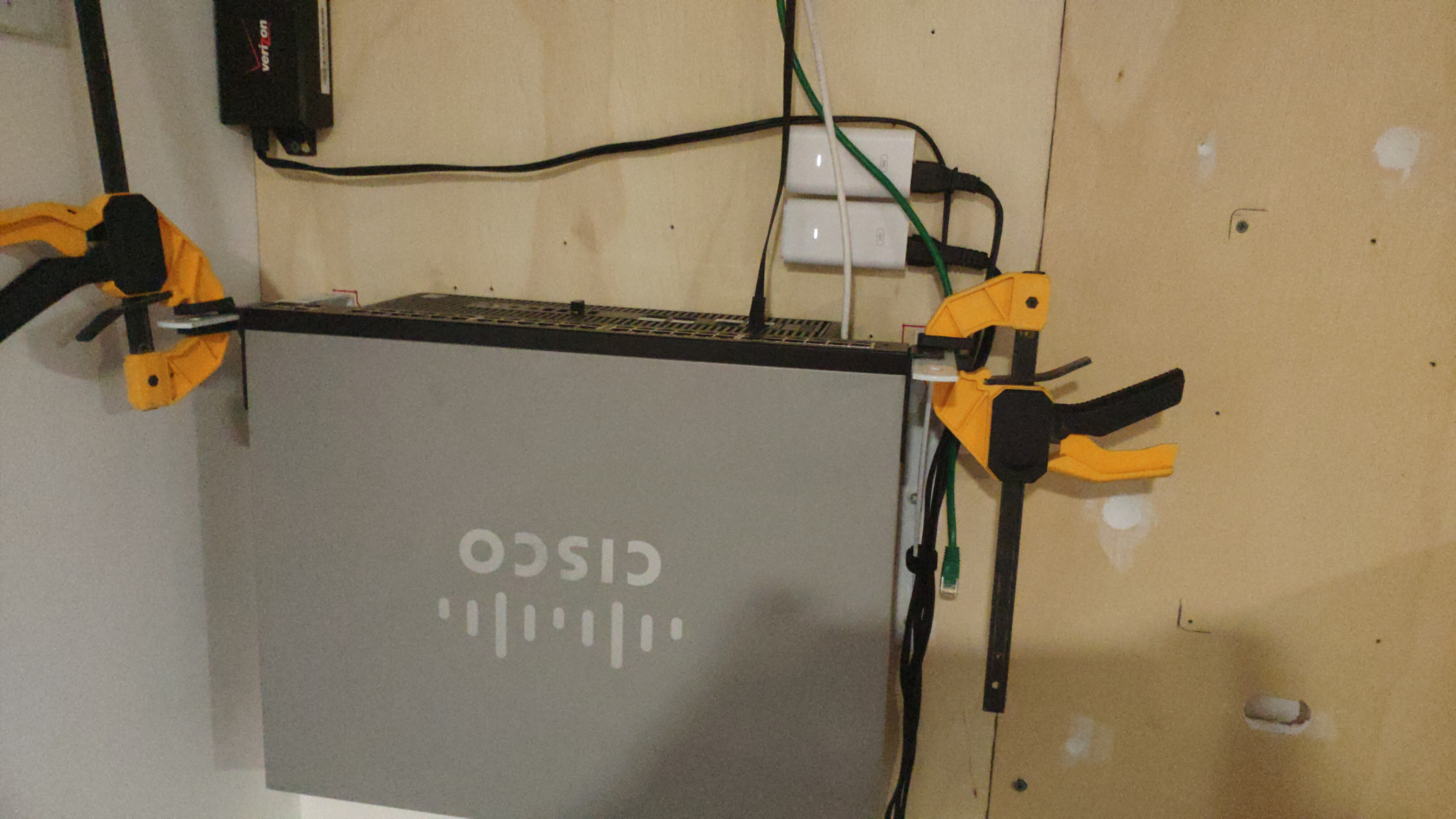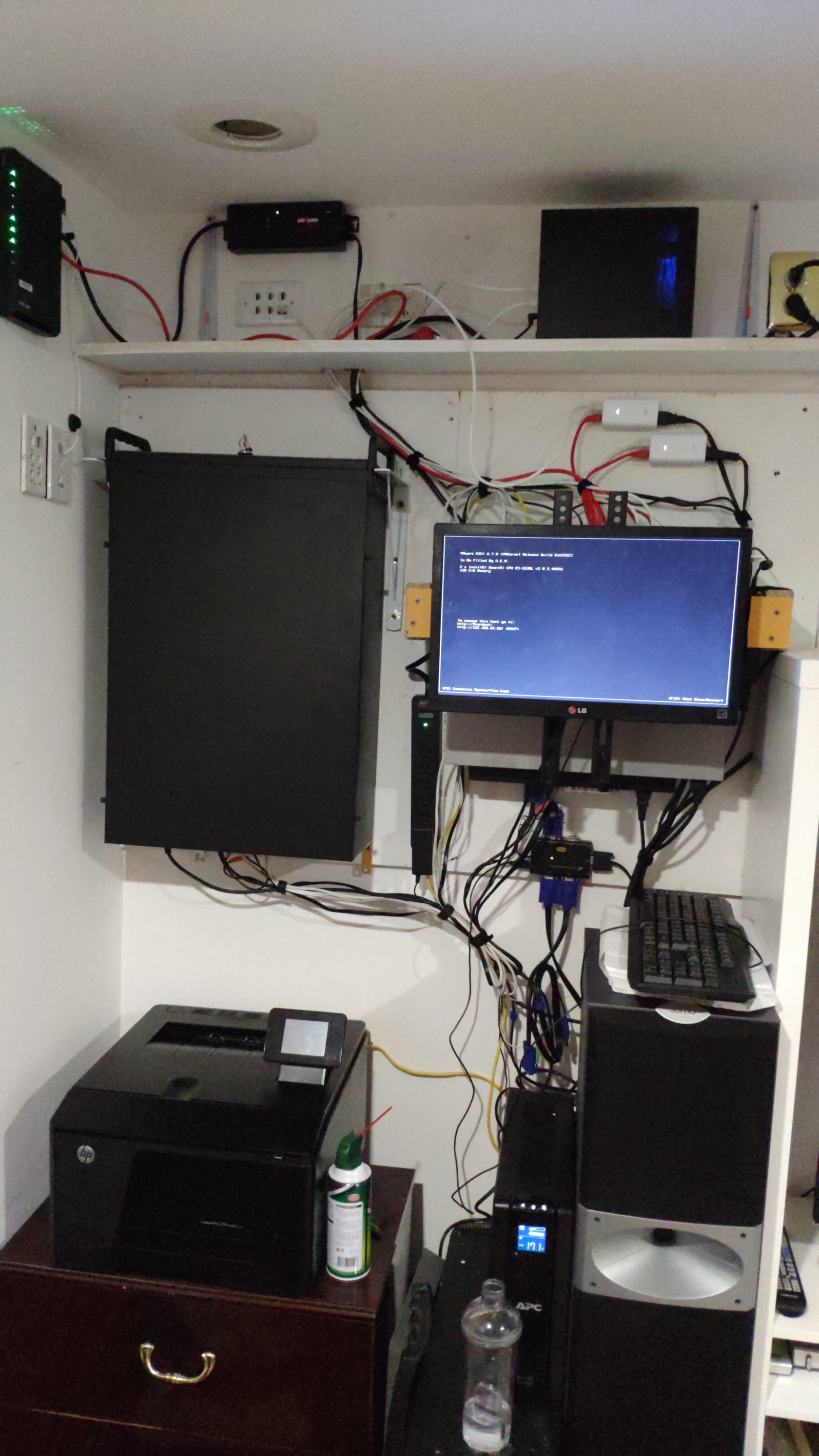 2020
Lock down happened. What better way to spend the idle time than to DIY a wooden server rack?
The wooden server rack is made from 2x4s, which I got laying around, long before the pandemic skyrocket the cost of wood.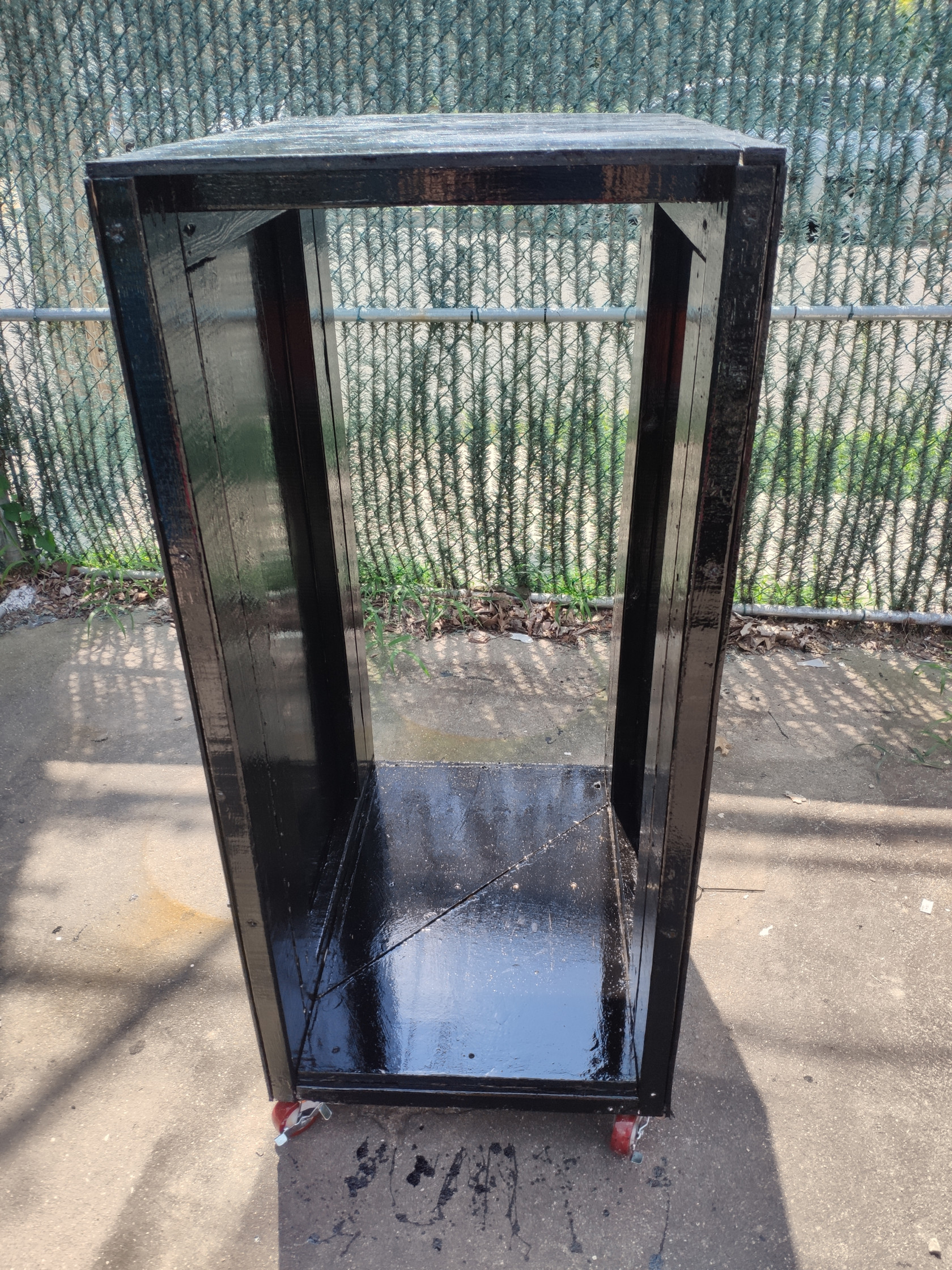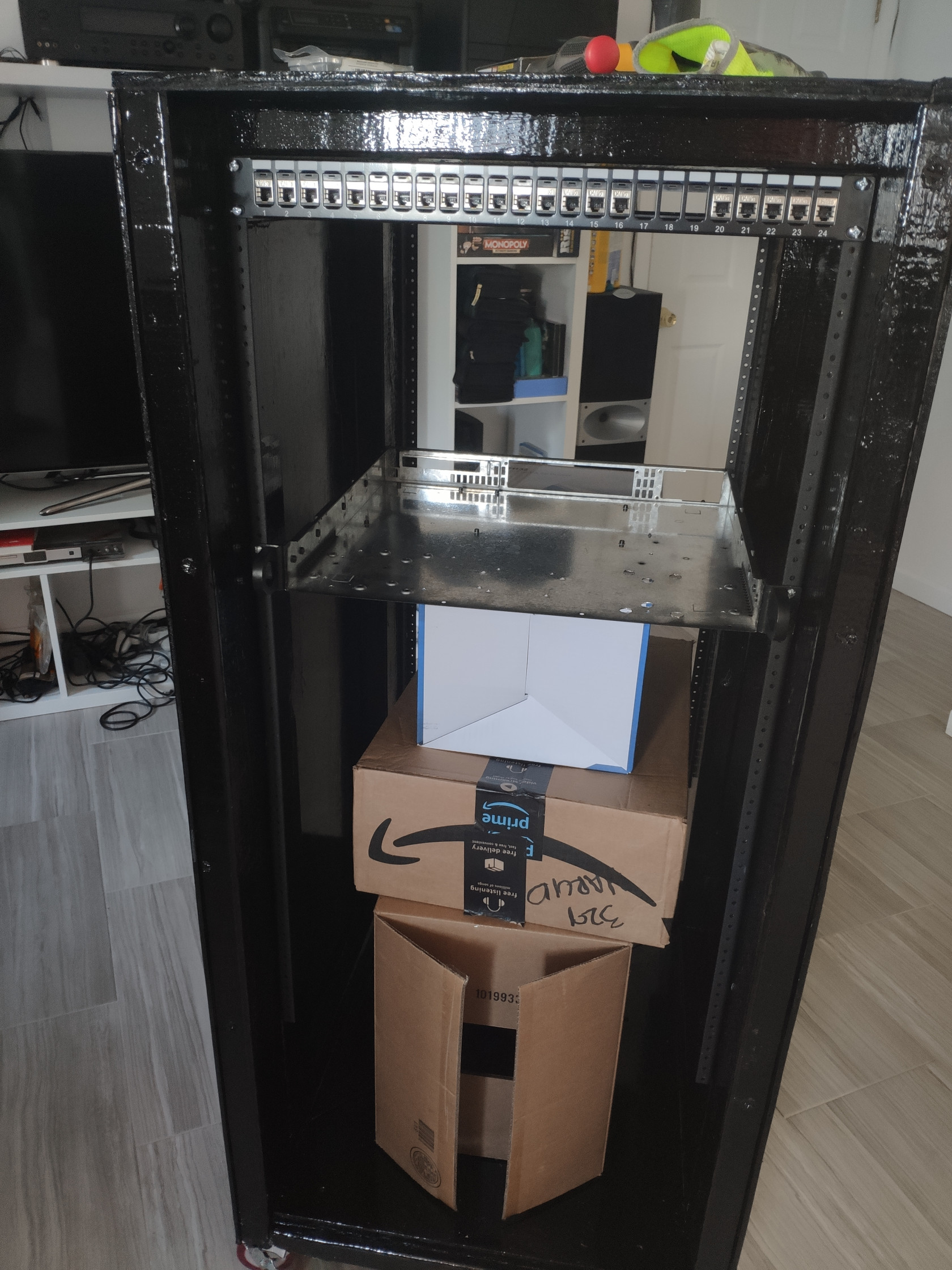 Drawer rails from Home Depot works well as rails for servers.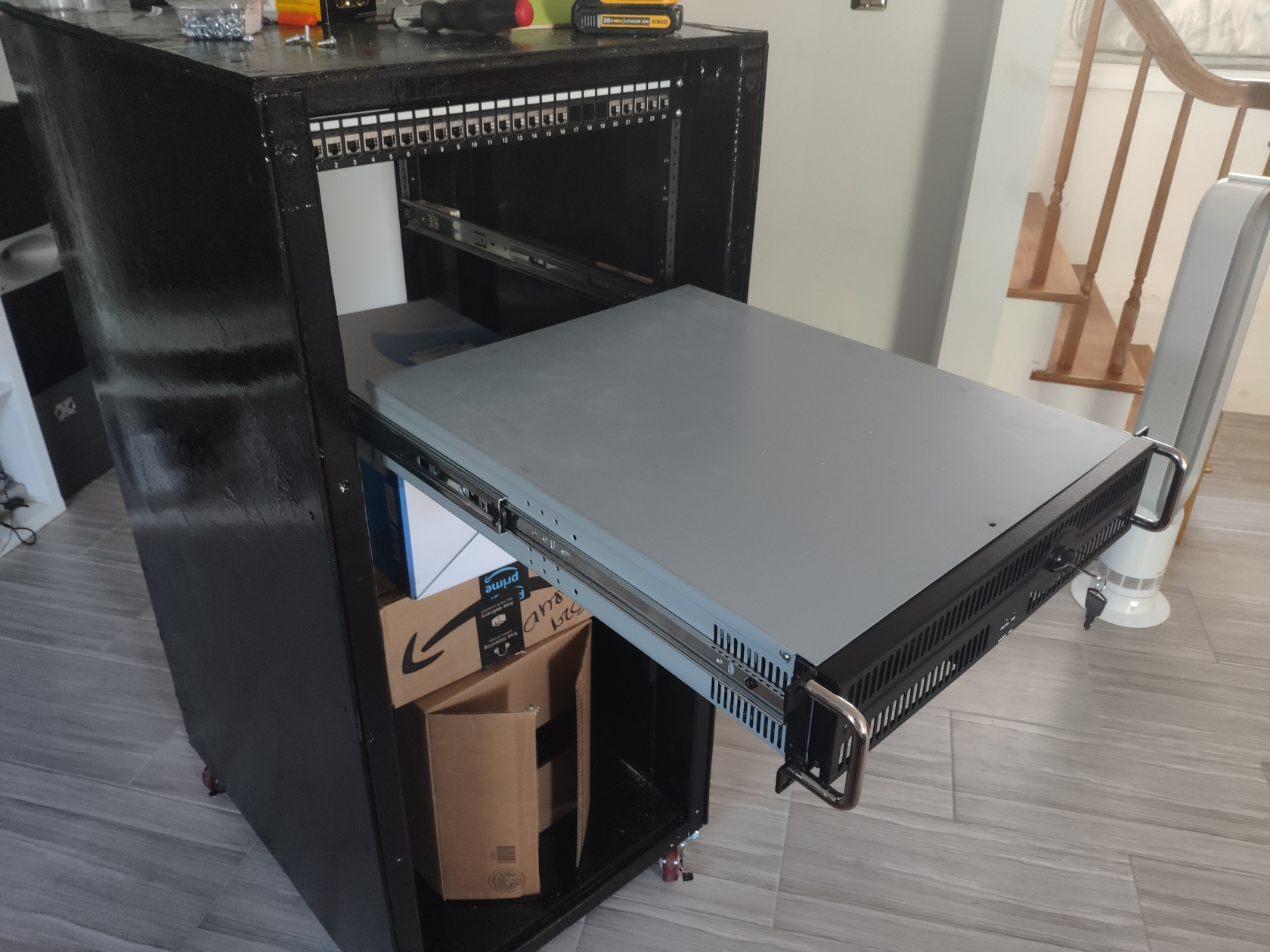 From top to bottom:
24-Port Patch Panel, using Keystone RJ45 Pass-through Jacks
Cisco SG200-52P PoE Gigabit Switch
1U empty server case, used as a rack shelf, for holding the pfSense Mini PC
2U ESXI DMZ Server

Runs Minecraft, Plex, Resume Website, and Wordpress Blog
Intel i7-4790K
32GB (4x8) DDR3 RAM
Asus Z97 Motherboard
3x 256GB SSD as ESXI Datastore
Nvidia P400 for Plex Transcoding

4U ESXI Main Server

Runs TrueNAS, Unifi Controller, Pi-Hole, and a bunch of Winodws and Linux VMs
Dual Intel Xeon E3-2650L

128GB (16x8) DDR3 ECC RAM
AsRock Rack EP2C602-4L/D16 Motherboard
LSI 9300 HBA card for all the HDDs
2x 1TB SSD as ESXI Datastore

APC 1500VA UPS
CyberPower 1500VA UPS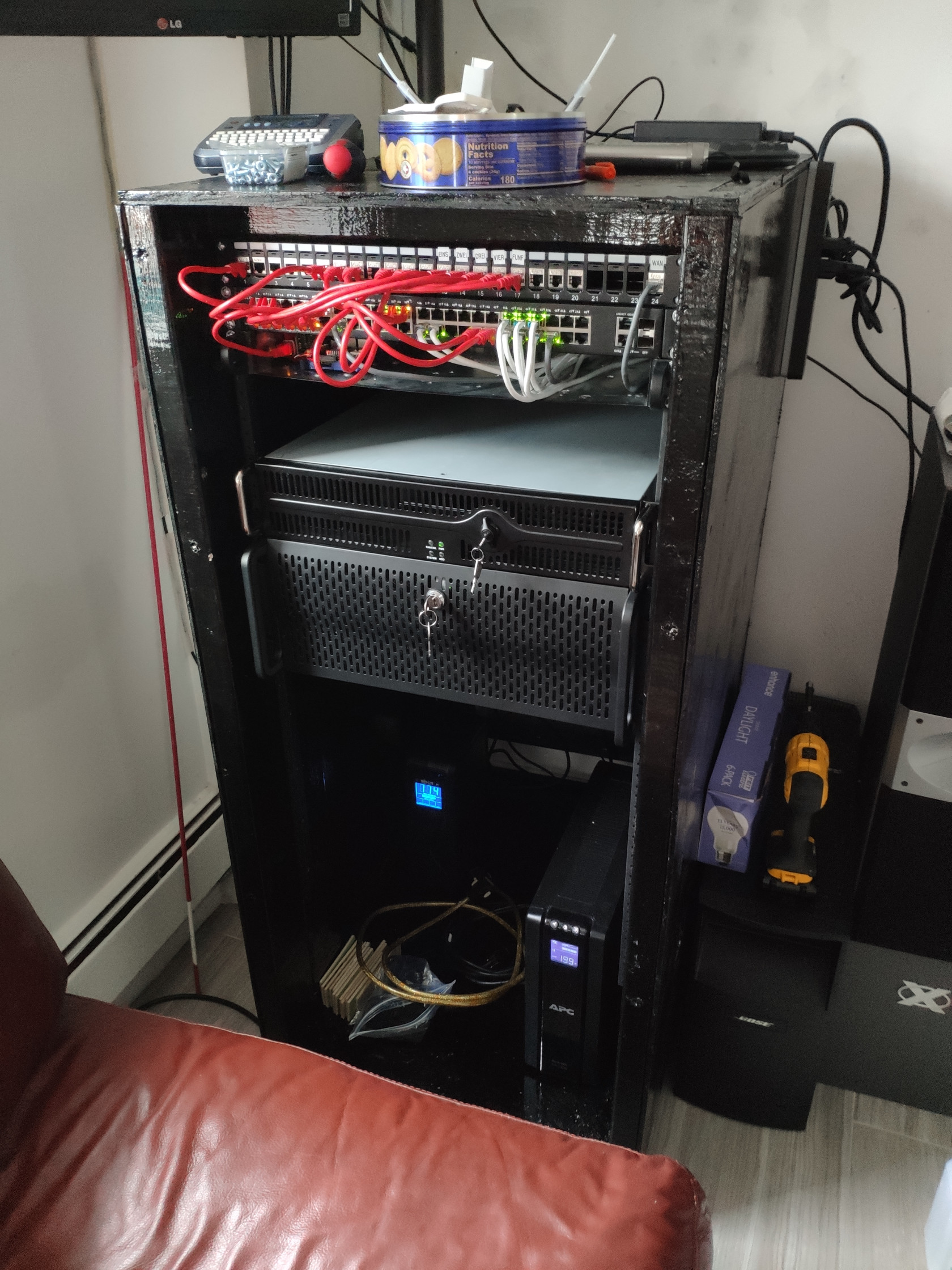 As COVID continues to rage on, my brother moved back home from college. His server equipment are added to the DIY rack.
Now there's one more 4U server, along with a few Raspberry Pi 3s.
Previously, I run Pi-Hole inside a VM on the ESXI host. With the Raspberry Pis as the physical Pi-Hole server, I don't have to worry about not having DNS resolution when I do maintenance on the ESXI Hosts.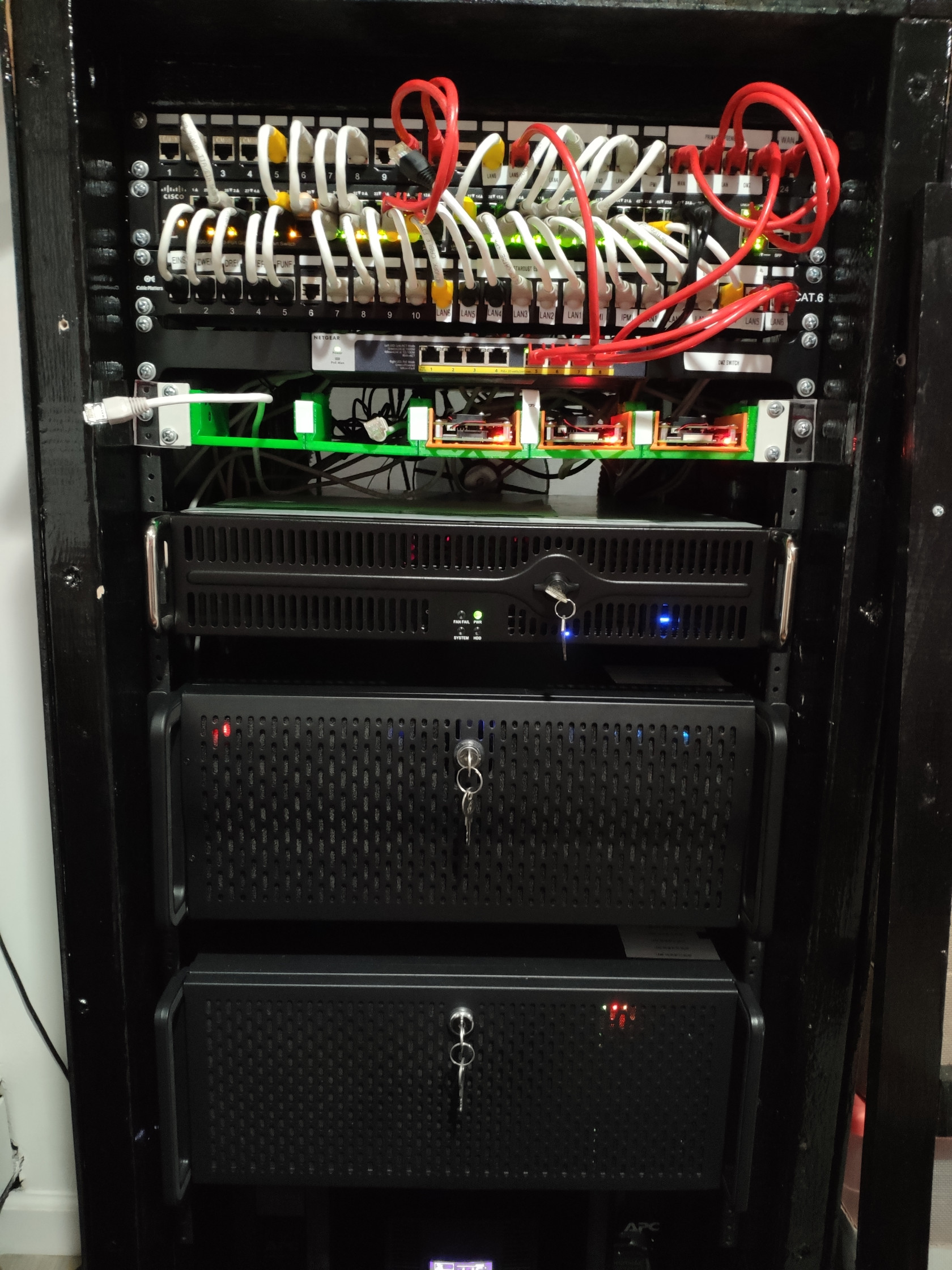 2021
Shortly after vaccination was available to the general public, I switched job. The company was in the middle of an physical office migration and was getting rid of half-height server racks.

Of course I took one home. It is a very nice 25U rack.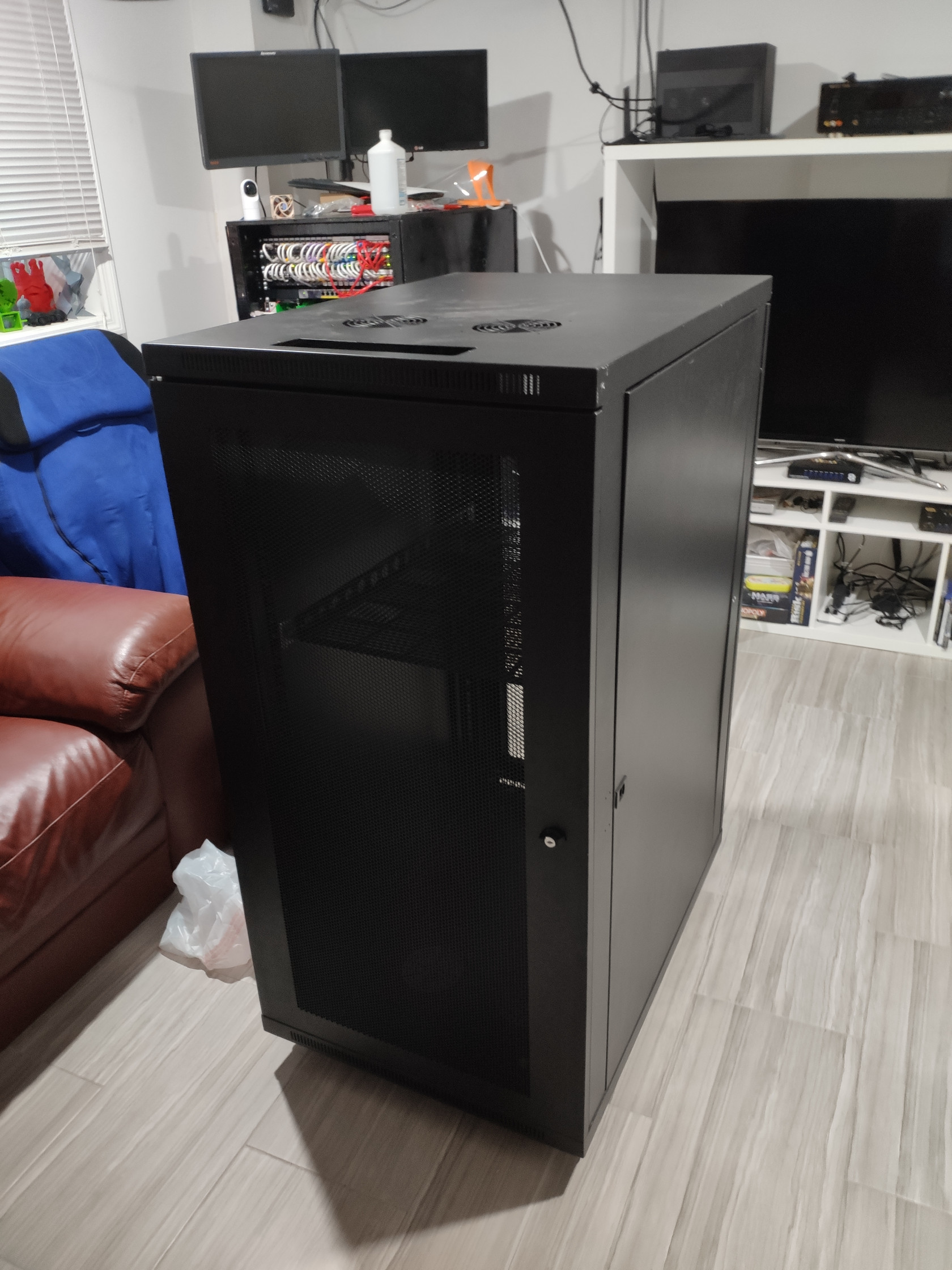 All hardware transferred over.
From top to bottom:
24-Port Patch Panel
Cisco SG200-52P PoE Switch

Old, but very stable. Still running well.

24-Port Patch Pannel
Netgear 8-Port Unmanaged PoE Switch

DMZ Switch, to physically separate the DMZ zone from the rest of the network

1U Rack Shelf

Contains the pfSense Mini PC in the front, miscellaneous items in the back

Unifi Protect NVR

Expensive, but really nice surveillance system
One of the few camera systems that can be control locally and does not require any subscriptions

1U 3D Print Pi-Rack

2 Raspberry Pi 3 as Pi-Hole

2U DMZ Server

ESXI 7.0

Minecraft, Plex, Wordpress, NGINX Reverse Proxy
Same hardware as before

4U Main Server

ESXI 7.0

TrueNAS, Mumble Server, Unifi Controller, and a lot more

Same hardware as before

4U Server

My brother's server, same hardware as my 4U

APC 1500VA UPS
CyberPower 1500VA UPS
Tripp Lite 1500VA UPS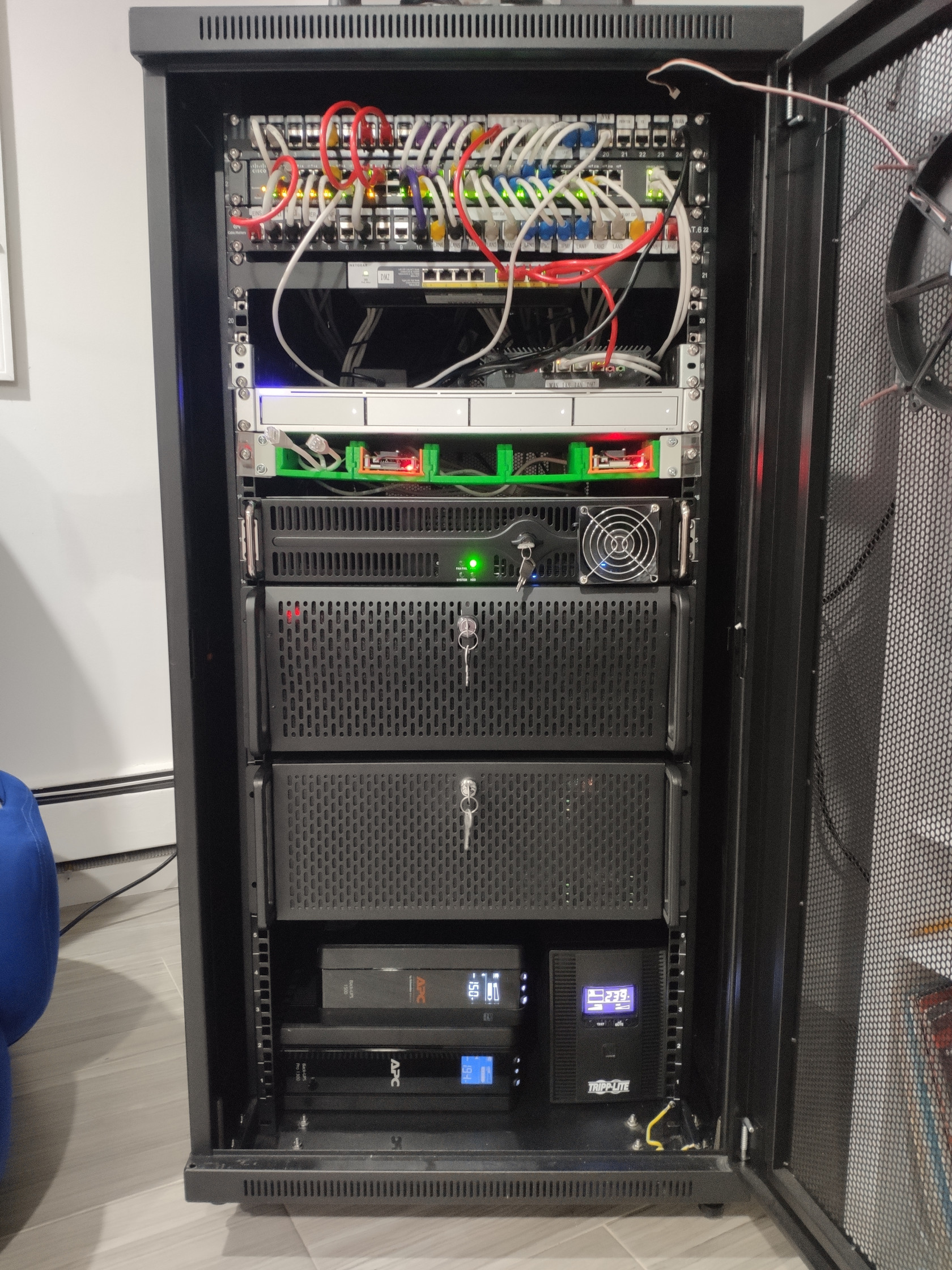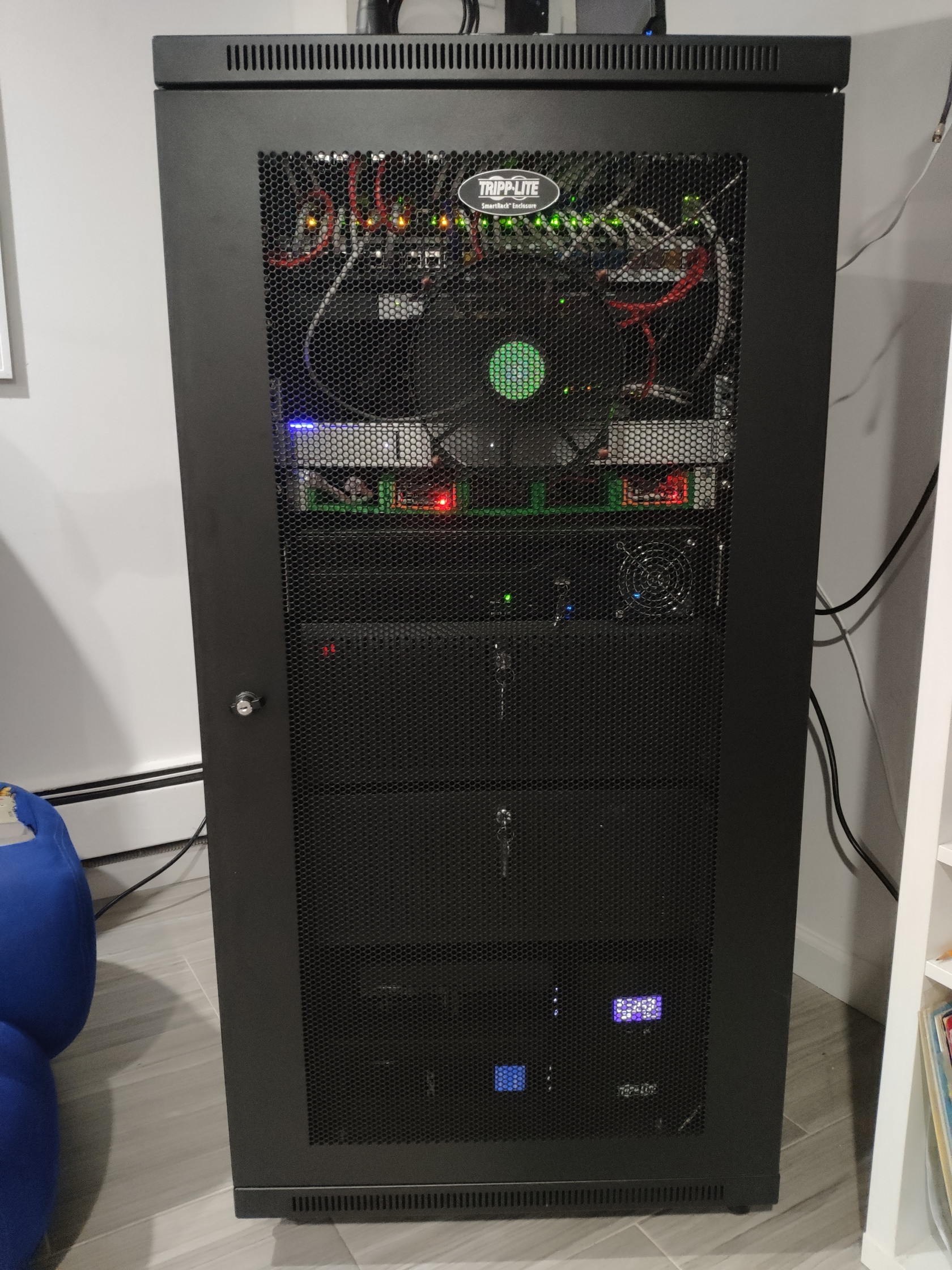 Safety first. Gotta make sure the fire extinguisher is close by.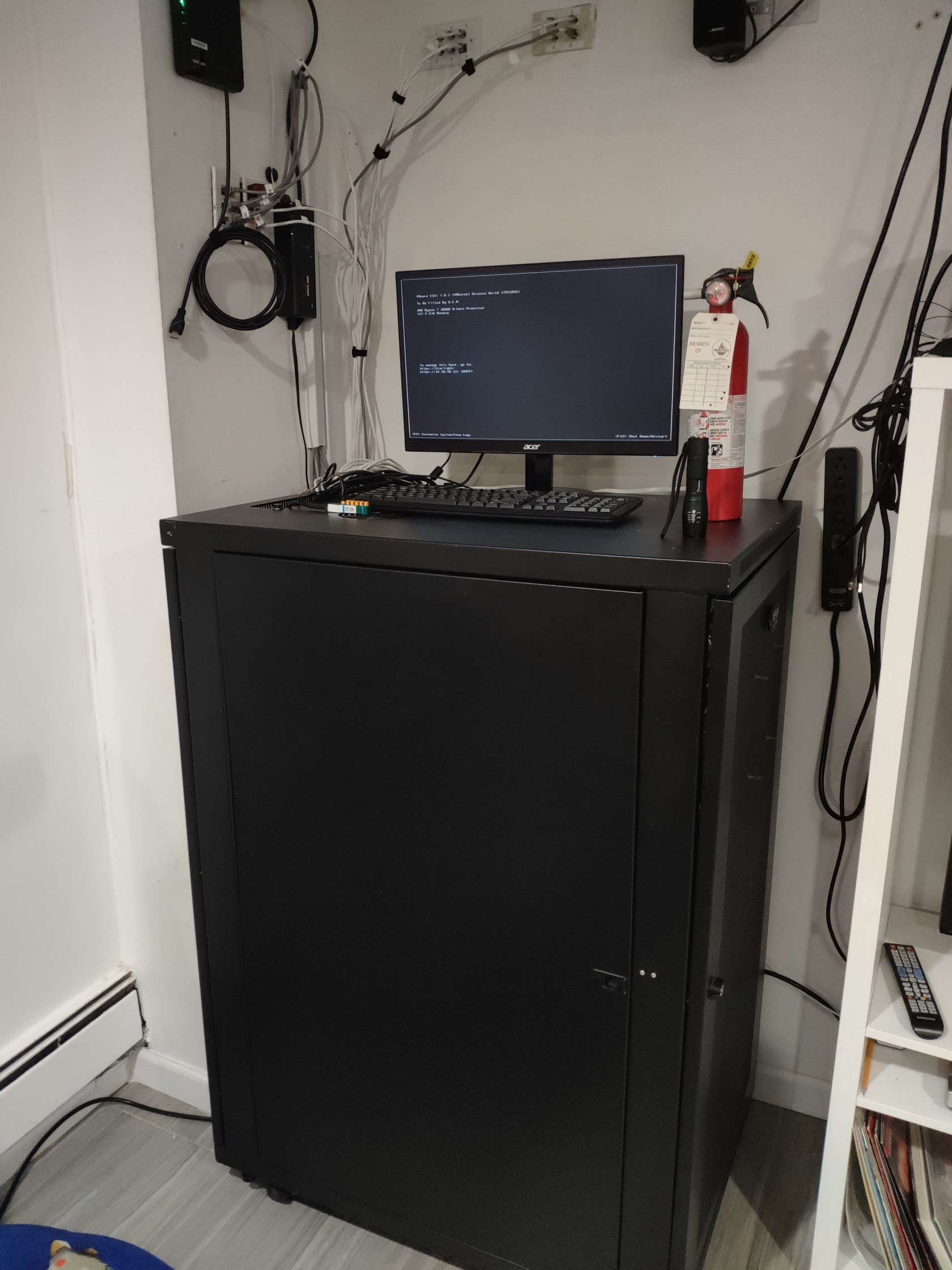 2022
Electricity cost are on the rise. At this point, the Ivy Bridge Xeon Processors are over 8 years old, and are drawing more watts compared to a more modern processor.
Time for an internal upgrade. A LOT of upgrades.
From top to bottom:
1U 24 Port Patch Panel
1U 24 Port Patch Panel
Brocade ICX 7250

48 Gigabit RJ45 Ports, 8x 10G SFP+ Ports
Going 10G for the servers network, because why not
Command Line operation for the switch at last; time for some automation

Netgear GS108LP PoE Switch

DMZ switch
Physical separation for the DMZ network

1U Shelf, holding Raspberry Pi trays

From Left to Right:

Raspberry Pi 3B, Primary Pi-Hole
Raspberry Pi 3B, Secondary Pi-Hole
Raspberry Pi 4B 2GB, Home Assistant

Raspberry Pi 4B 2GB, Network Monitoring

Raspberry Pi CM4 8GB, Pi-Box, running NextCloud

1U pfSense Server

Supermicro X10SDV-4C-TLN2F

Built-in Dual 10G Intel NIC
Xeon-D 1520 Low Power CPU

16GB DDR4 ECC RAM
Intel i350-T4 Quad Gigabit PCIe NIC
2x120GB SSD for mirrored Boot drive

Unifi Protect NVR
2U Main ESXI Server

AsRock x470D4U AM4 Motherboard

One of the only Server grade motherboard for the consumer Ryzen CPUs

Ryzen 7 3800X
128GB (4x32GB) DDR4 RAM
2x Nvidia Quadro P400 GPU
Supermicro Dual 10G SFP+NIC

One port is directly connected to the TrueNAS server for NFS share

2U TrueNAS server

AsRock D1541D4U-2T8R Motherboard

Xeon-D 1541 Low Power CPU
On-Board 10G RJ45 NIC

4x12TB HDD in RAID 10
2x 1.6TB SAS SSD in RAID 1
2x 1.6TB SAS SSD in RAID 1
2x Dual 10G SFP+ PCIe NIC

One direct connection to ESXI server for NFS share
One SMB only connection to rest of network
One webGUI only connection to rest of network

4U Server

Brother's server, also upgraded to Ryzen with Asrock Mobo
Is this even a home lab anymore? It feels more and more like a home data center instead.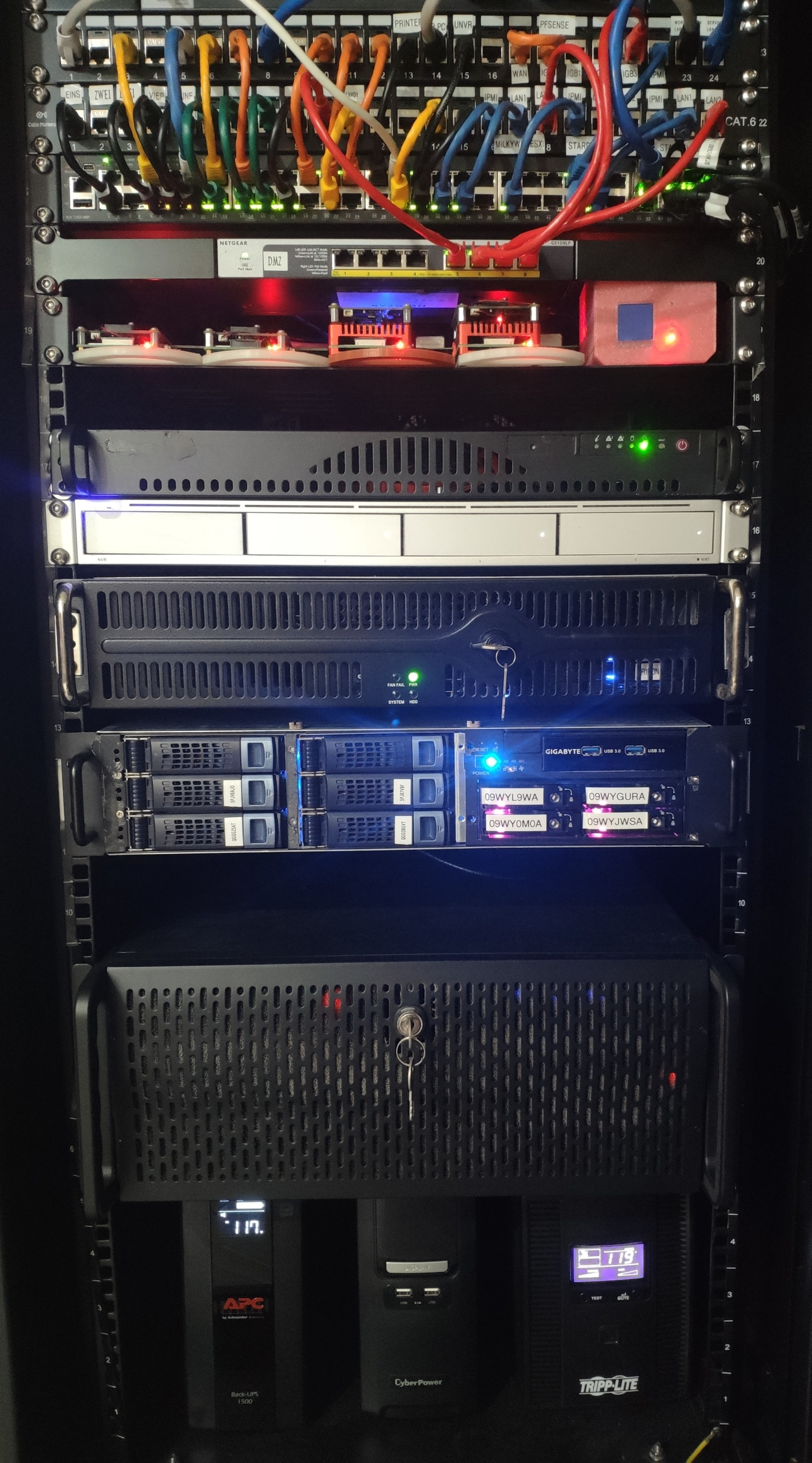 On the back, from top to bottom:
1U PDU, connected to CyberPower UPS
1U APC ATS, connected to both APC UPS and Tripp Lite UPS

Networking Equipment are connected to this ATS, for extended run time
With only the pfSense, Brocade Switch, Unifi Access Points, and Verizon ISP modems, the three UPS gives about 30 minutes of continuous run time during the recent power outage

1U PDU with switches for quick ISP modem reboots
1U VGA KVM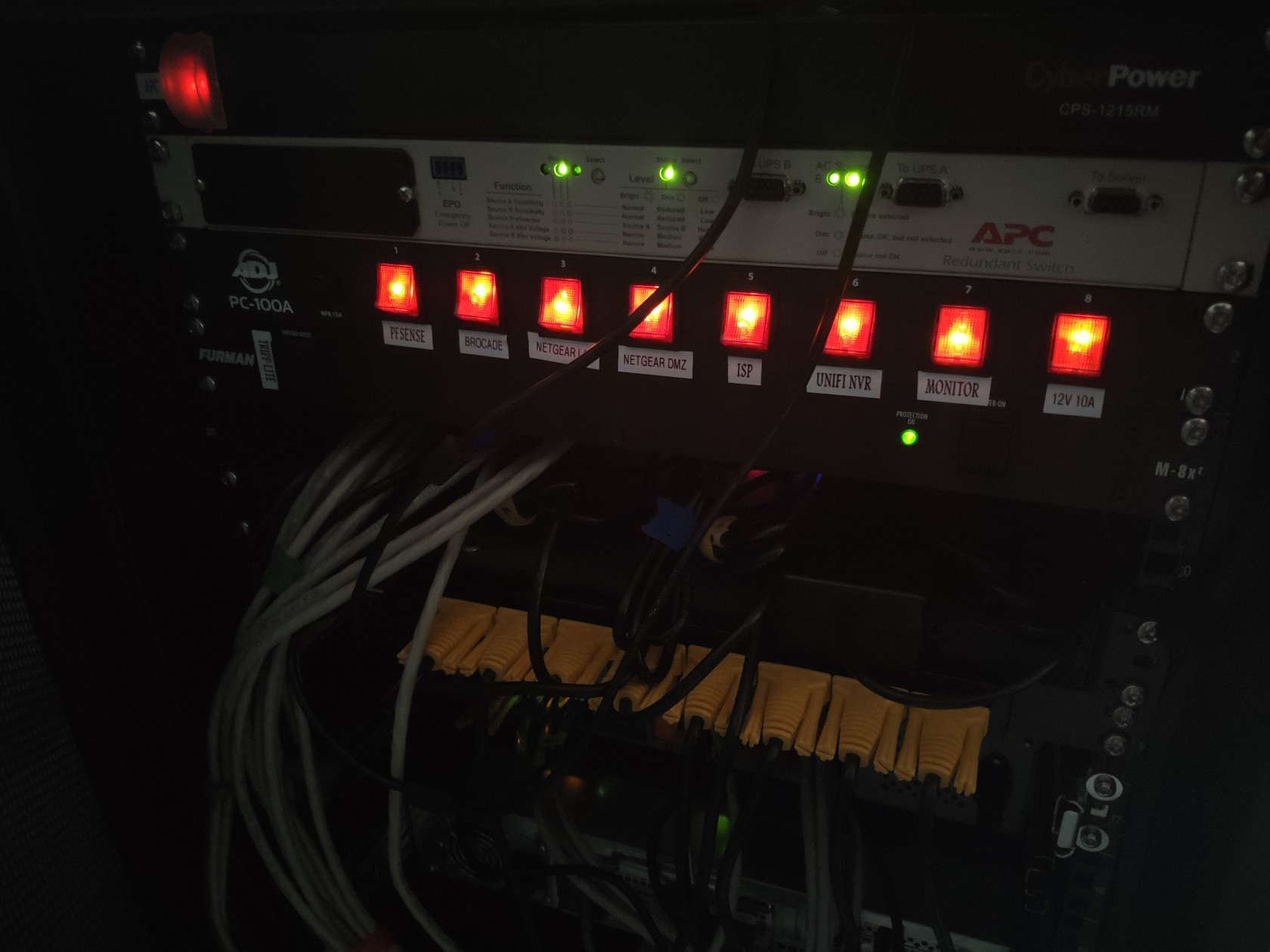 What's next?
More hardware.
Currently planning on testing Tape backup with LTO4 drives.
Also want to test virtualization clustering using Lenovo M720q and M920q Tiny machines as compute nodes in a Proxmox Cluster.